This post is also available in:

日本語
YMCA Taxi Guam is dedicated to giving you the best cab service and reasonable cab prices on Guam!
This is Edo of YMCA Guam Taxi. I have been a veteran in the Guam Taxi business for over 30 years and I welcome all visitors to Guam.
My primary goal is to ensure all my passengers arrive at their destination safely. My second goal is to make sure you, your family, and your friends enjoy your stay on Guam.
The peak travel times vary but in general, July and August are the busiest months of the year! Therefore, if possible, I strongly suggest that you make your taxi reservations early. It's just one phone call away.
All you have to do is state your name, your number, and the pick up point and we will do the rest. My drivers and myself will be there for everyone. We operate with maintained vehicles and our taxi meters are properly checked and calibrated by the Guam Revenue and Taxation. We always follow the rules and regulations!
Additionally, if you wish to travel around the island, YMCA Guam Taxi can accommodate such service at very competitive rates. I will take you to all the top spots on Guam. No need to worry about traffic safety or getting lost on the islands of Guam. All I require you to do is enjoy your time in our shuttle, and appreciate the beauty of Guam. That's all!
BTW, because my organization believes in individualism you can't miss my cab. My taxi has YMCA written on it and funky pink wind guards. It's the only one on Guam like it. I also have a lot of novelty "toys" given to me as appreciation gifts on my dashboard from wonderful people from all over the world! It's worth looking at!
My other drivers have their own style so each cab will be reflective upon their personality. We are proud that we come from different backgrounds and come from all walks of life! To find one of us,  just make sure to look for Resort Taxi on the side of the car.
Resort Taxi is the only Taxi company on Guam that is affiliated with YMCA Guam Taxi.
Please note: we don't copy New York style cabs with that yellow paint; this isn't New York, this is Guam. We like to keep it that way!
Finally, I and my professional drivers will always meet our valued guests with a very friendly smile! Why? Because that's how we roll!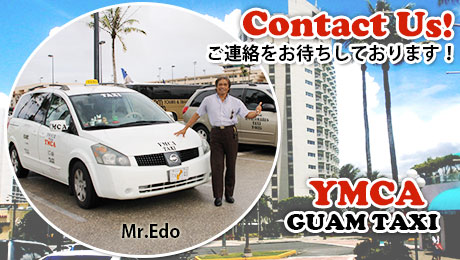 TEL: +1-671-727-7465