Guam is located in what is known as typhoon alley.
With this geographical fact, I have to say that were very lucky this time.
Just a week ago, Typhoon Mangkhut was forecast to pass through Guam. Instead, it passed directly through the island of Rota. My sympathies goes towards our neighbor but I am glad to say that nobody on Rota and Guam have been seriously hurt or killed from this very powerful storm.
Guam has escaped with little harm. Recovery and cleanup efforts have proceeded very fast. At the time of this writing, 95% of the island's power has been recovered.
Two Days Before Typhoon
Two days going into the typhoon, the island of Guam was preparing for the worst. Government officials were making public announcements, the coast guard was placing the island on multiple coastal alerts, and the students were celebrating as schools were preparing to close.
My drivers and I listened very carefully to weather reports over the television. Some prayed while others hoped that typhoon Mangkhut would miss Guam.
There were reports/rumors that Mangkhut would be stronger than Typhoon Pongsona and this was very bad news to all of us.
Responsible and Trustworthy Drivers
As each and every driver is responsible for their own cab vehicles, they have my trust to do what is right for their designated vehicles during this storm. If their vehicle is damaged, they cannot be used to pickup guests. The vehicle must be repaired or replaced. It is a very costly process and it's not that easy protecting cars during a storm.
Overall, safety for them and their families is the ultimate priority. Taxis can always be replaced; lives can't.
Day of Typhoon
I would say that most of the action started right after 1pm. Conditions gradually got worse as we headed into dusk.
As I drove my cab to patrol for any stranded people on my way home, I can see several cars packed with kids and adults heading towards public schools for shelter.
As I reached my home, I kept my gate open so it wouldn't fly away. I secured my cab and made sure everyone in my family was accounted for; my wife and three dogs (all the kids have graduated and are living their happy lives).
We had electricity until the night hours. As it went dark, we continued to have tap water which is always good sign.
I ate my dinner like it was any other night. My dogs slept on the couch like it was another Monday night. The only difference was the candle lighting and the sound of the wind and rain pounding on the typhoon shutters that protect our windows.
Some time through the night, I learned over the radio that the typhoon went directly over Rota. The center/ eye of the typhoon is the worst place to be!
Aftermath of Typhoon Mangkhut
By midnight, I was fast asleep. I woke up at 6 am, only to find out that the typhoon was already past Guam on its way to the Philippines.
I listened to the radio for more information and that's when I figured we missed the typhoon by a nose hair.
Fortunately my cab was left without a scratch but the biggest casualty I had on my property was that my beloved avocado tree was blown sideways unto our concrete fence. How spoiled can one be?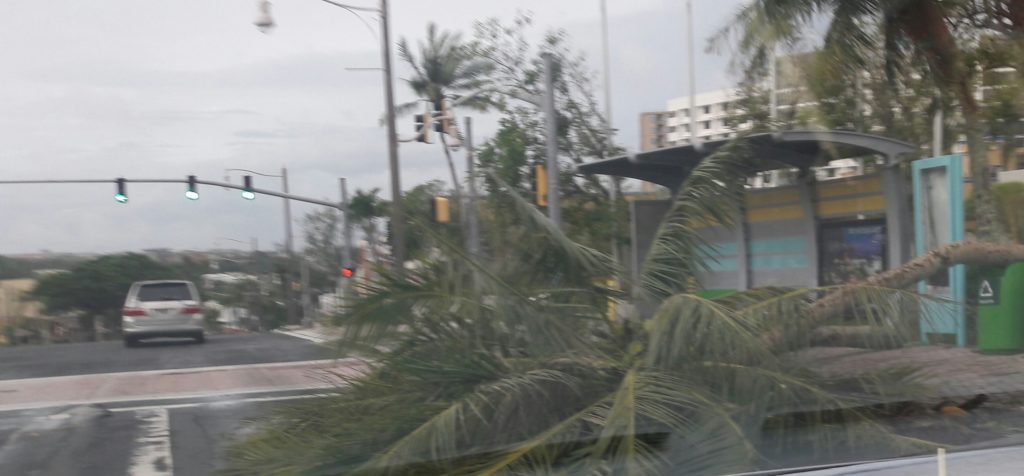 By 7am many damage reports of fallen trees, fallen power poles, blown away wooden rooftops, and scattered debris on the roadways were coming in over the radio.
I checked with my drivers and all were okay! All my drivers and their families are safe. That's the most important!
The island of Guam was in recovery mode. Within 72 hours after Typhoon Mangkhut, over 90% of Guam had electricity restored. That's not bad considering it use to take weeks to get power restored.  Good times!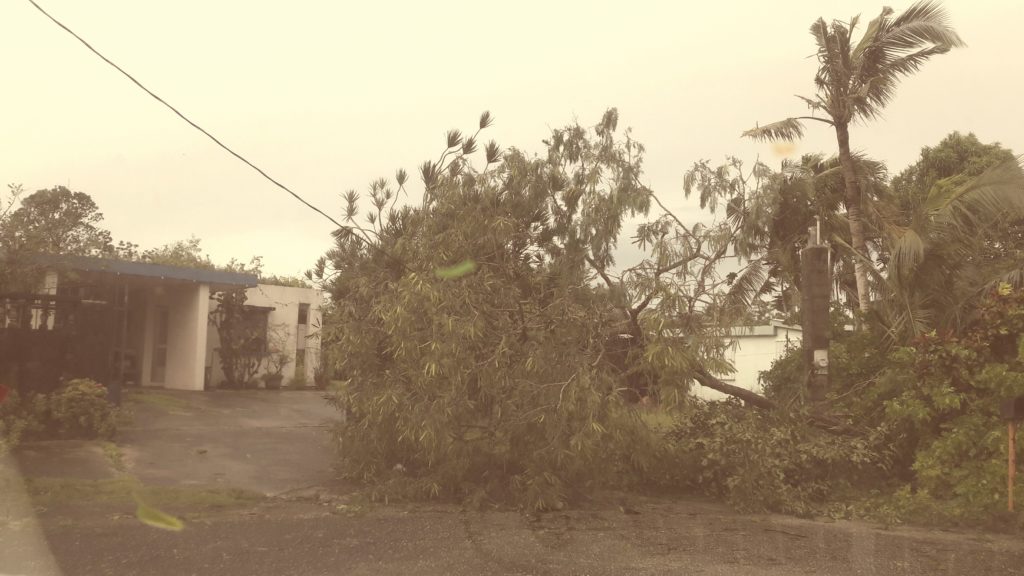 Preparation is Key!
Fortunately I am glad to say there have been no casualties on the island of Guam or in Rota from this storm. Rota took most of the force from the storm but yet they did not have any casualties.
Perhaps we should credit the weather agencies for scaring us with reports that both Guam and Rota would be in serious trouble. Or we can credit our experience in dealing with Typhoons since the 70s because I can still hear Typhoon Pamela and Karen whistling through my door! Let's just say that after surviving over 10 typhoons on Guam, the key to surviving a typhoon is always being prepared and using common sense.
Stay indoors during a typhoon. Avoid low lying areas.
If you feel that your shelter is not safe, go to your nearest elementary school for shelter. It's all common sense.